Today, Jane is here to talk about used furniture for your house. She has furnished her entire living room for – wait for it – $750! Let's see how she did it…
Hi everyone! I'm Jane from The Borrowed Abode, where I blog about decorating my rental home on a small budget and starting my own business.
To me, the best parts of decorating with vintage and thrift furniture are the stories that accompany each addition.
My boyfriend and I have been furnishing our home for the last year and a half, and I'm amazed to look around and see that almost everything in our house has a story behind it – and by the story, I don't mean "we drove to Macy's and bought this couch brand new."
Our furniture stories are more like "Oh, I remember this lamp. We found it in that cute little town in New Hampshire, right after we had that tasty breakfast at the old Mill, and before we went on the hike up that mountain." Or Ryan would say "Oh, I remember this chair. Jane made me help her carry it home from the neighbor's garbage pile, and it was 100 degrees out that day."
First, let's start with the most important part. Why buy used furniture for your house?
It saves you money!
It's often better for the environment!
It's not made with the sketchy and ethically questionable labor situations that run rampant overseas. (FYI, even some of the "fancy" furniture stores sell furniture made overseas.)
Vintage pieces especially are often sturdier, constructed of solid wood, and just much more durable.
Example: None of the furniture in my living room (below) was bought new – that's how we managed to create this space for less than $750. While that's still a lot of money (to me, at least), it was totally doable over the course of a year or two.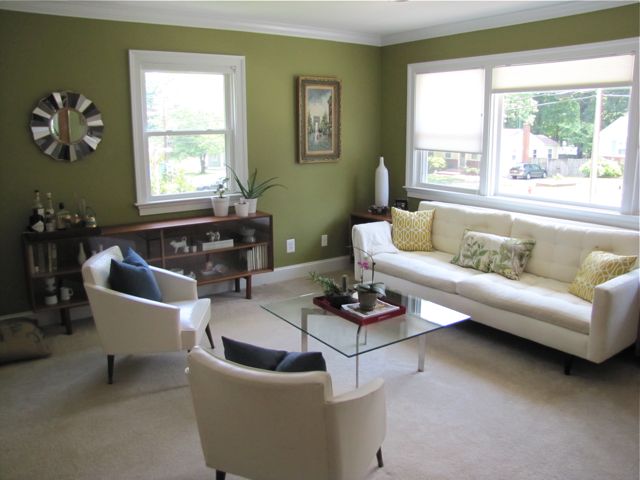 Where do you find *good* used furniture, without paying an arm and a leg for an antique?
Unless you live in a very remote area, Facebook Marketplace is your BFF.
Thrift stores! If the first store or two that you try doesn't seem to have much furniture, don't give up! Try a few more, becuase you'll find that some locations have more furniture, while others are focused primarily on clothes. And don't just go to the major Goodwill and Salvation Army stores – look on Yelp.com or just plain Google to find the smaller, lesser-known shops. They're often run as fundraisers for your local humane society, rotary club, or other community organization.
Yard Sales can provide killer bargains on used furniture, because people are decluttering and don't want to lug leftovers back into their house after the sale. We found an amazing mid-century modern coffee table for about $10 at one, just by doing an accidental drive-by.
Consignment furniture stores usually offer up furniture with less wear and tear, and from very high quality makers, but of course you'll pay the price. However, you will still save a bundle compared to what a high-quality piece would cost new!
Curbside Trash Picking! Probably the most controversial of all my tips, it's one of my personal favorites. It can be one of the thriftiest and most fun ways to furnish a room! In our town (and many others around us) it's common for people to put their unwanted bulk items (furniture, etc) on the curb. Technically, the city comes around with a truck once in a while and picks the trash up – but usually all the good stuff (and stuff with potential to be made good) is picked up by people looking to give the items a new home.
Example: We found this sweet mid-century modern stereo cabinet/storage unit this way, and are planning on refinishing it as a wedding gift for our good friends.
Turn Your Ideas into Your Dream Home
With any project, 80 percent of the work is done in the planning stage. We have simple checklists to help you get organized and make sure you're prepared for every step along the way. Download them now for FREE:
By subscribing, you agree to get emails from us. We respect your privacy and you can unsubscribe any time.
Tips for shopping for thrift/secondhand/vintage furniture:
Take your time. You'll often find "good deals" on furniture at the venues mentioned above – but if it's not a piece that you need for your home, or it's not really your style, don't get it "just because it's such a good deal." If I could go back in time about 10 years and tell myself this, it would really have helped my budget!
To avoid making the above mistakes, before you shop – Prioritize! What pieces do you need most in your house? It helps to keep a short list in your purse or wallet, specifying what pieces you are looking for (along with measurements of what will fit your space), or what storage/decorating challenges you need to tackle. This way you can make sure you leave the shop with only what you need!
Seek out the lesser known thrift stores – Goodwill and Salvation Army are great, but most places have smaller, independent stores – often run by charities such as the Lyons Club or the local animal welfare organization. These often have lesser-known furniture stashes, and while their selection may be smaller, they often yield top-notch results!
Consider what imperfections you can deal with. If you're a DIYer, then you can fix up just about any item. If you're not a DIYer then it may take you longer to find just what you need, but it's still totally feasible.
Before you dish out the dough for the furniture, always make sure to inspect its condition. I learned this the hard way, when I failed to inspect the underside of an item until we were loading it into the car. We'd have asked for a lower price if we'd seen the cracks in the base before purchase.
Psst: In all of the venues listed above, you can usually negotiate and save even more money.
Example: By taking my time and knowing exactly what I wanted in a living room sofa, I was able to get this $1600 Crate and Barrel sofa used on Craigslist for only $300. Why? Because there's a hole in the upholstery on one arm. I simply covered it with a cozy throw blanket. Perfect!
I've got the used furniture, now what do I do with it?
Before you bring your sweet scores into your home, take these steps to ensure no "unwanted guests" sneak into your home with the furniture. Go with your gut. If the home or store you found your treasures in seemed clean and well-cared-for, then a simple vacuuming or dusting once you bring the furniture home should suffice. But if you found old, grungy, upholstered furniture on the side of the road, here's what to do before bringing it inside your home (or shortly after):
Take photos of every angle. This way you'll have a record of how it looked if / when you (or a professional) want to reupholster it.
Strip every bit of upholstery off, leaving you with the wood frame (and maybe springs). This way, you ensure you've removed any of the materials that may have been harboring pests.
Wipe it down with a damp rag and maybe some cleaning spray, depending on how dusty and dirty the frame is.
What's the best type of used furniture to buy?
Dressers, bookshelves, desks, tables, china cabinets – these are some of the best pieces to buy. And if you need more storage in room (like a living room), dressers or credenzas are the easiest way to add it. Just make it your own (with paint, hardware, or new varnish – see below) and then use it as a TV stand/ entertainment center or pop it behind your sofa as a "sofa table." The drawers and hidden shelves in dressers and credenzas offer killer hidden storage space!
What should you [probably] avoid buying used?
Mattresses and box springs: I know some may disagree with me, but for sanitary reasons I'd probably never buy these used. Especially with the bedbug situations these days. (If you're on a very low budget, 5″ upholstery foam makes a great affordable mattress. I know this because I put the foam over a piece of plywood on cinder-block legs for my bed in my first apartment.)
Baby cribs: I don't have kids, but when I do, I'll spend whatever it takes to get a safe, sturdy new crib and mattress for my baby. So many older cribs have been recalled for safety issues – so I wouldn't want to take a chance.
How can you make the secondhand furniture work in your house?
New Hardware: If the wood finish is in good shape, but the hardware makes it look dated, considering switching out the hardware. Changing from old brassy drawer pulls to sleek chrome modern knobs can make a world of difference.
New Wood Stain: If the wood finish is the wrong color, but the piece is solid wood, you can refinish it to a darker or lighter stain.
Paint: When all else fails, paint can transform anything! If you like to keep things simple, a white or cream color works wonders. But I am really loving all the brightly colored pieces I'm seeing around the blogosphere right now. I just need to find a good candidate to paint green or orange for my house. 😉
Need inspiration? Searching for "painted furniture" on Pinterest will yield boatloads of inspiration. I'm constantly amazed at how ugly old dressers and desks can be utterly transformed with a fun coat of paint! For tutorials on painting old furniture, Kate at Centsational Girl is my go-to blogger. She's got a slew of great info and tutorials on her blog. One of my favorite examples is this $40 office credenza that she transformed with a few coats of paint and new hardware.
In the end, furnishing your home with a mix of vintage and thrift furnishings may take a bit longer and require a bit more elbow grease, but in the end, I think it's absolutely worth it! Not only is older furniture often more sturdy and durable, but it will also save you a ton of money and provide you with memories that last a lifetime.
thewriteDuffy
At home, April is a mom, wife, and DIY darling. Among other home projects, she helped her husband Dan renovate their 1986 bungalow and is currently designing and decorating the 2023 custom home they are building themselves. Professionally, April is a writer, author, and online marketer with 15 years of experience writing for newspapers and magazines, building online authority websites, and publishing books.
Turn Your Ideas into Your Dream Home
With any project, 80 percent of the work is done in the planning stage. We have simple checklists to help you get organized and make sure you're prepared for every step along the way. Download them now for FREE:
By subscribing, you agree to get emails from us. We respect your privacy and you can unsubscribe any time.